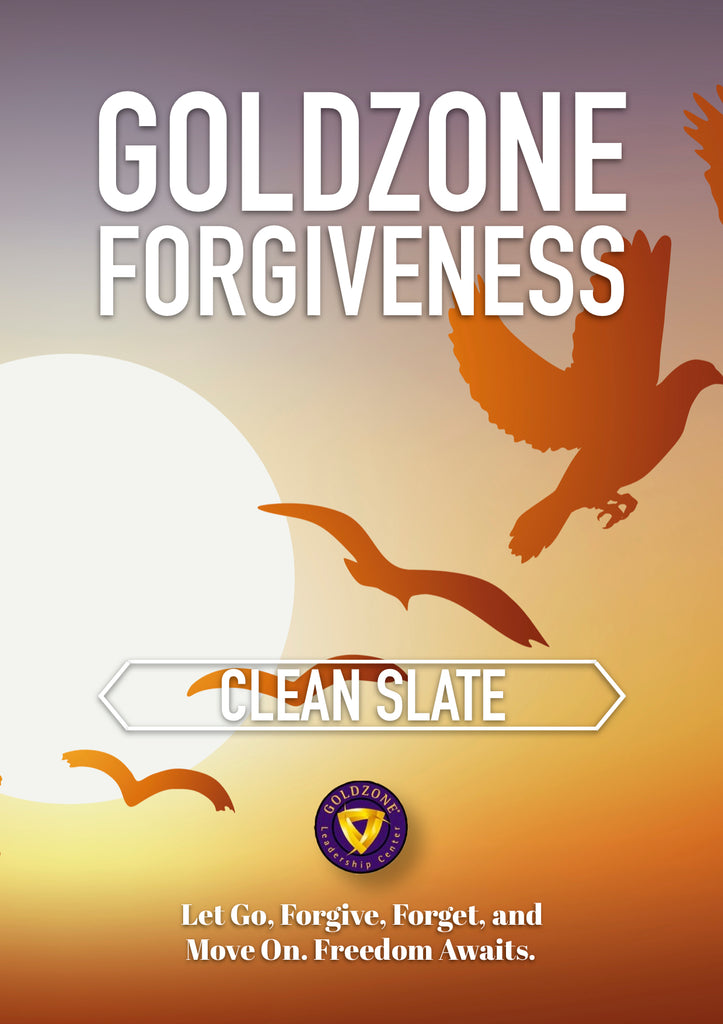 GOLDZONE Forgiveness Clean Slate
or
We have all felt hurt or wounded by the actions of other people. For some of us, we have years of accumulated and unresolved hurt that we feel was caused by the people in our lives who are closest to us.
Feelings of hurt, betrayal, and anger can be the most pervasive and destructive to both the target of our feelings as well as to ourselves. Ruminating on feelings of hurt, anger and the quest for justice can lead to destructive behavior, which can cause us to feel worse, as well as causing negative health outcomes that over time, can become life-threatening.
Medical research indicates that harboring angry feelings towards people can cause numerous physical maladies including high blood pressure and cardiovascular disease.
The benefits of forgiveness include increased feelings of peace, and harmony, with decreased anger, as well as improved physical health, lower blood pressure, more energy, increased mental clarity, improved cardiovascular health as well as general wellbeing and serenity.
The process of forgiving is a complex one. To fully forgive requires a 360-degree view of both theirs and our behavior, an exploration of the payoffs for harboring feelings, a willingness to change, let go and a desire for more peace and harmony.
Often our feelings of hurt are compounded on top of each other causing us to become more and more sensitive to the same hurt. Forgiving a recent hurt maybe more difficult without going back to our original sources and causes of hurt.
It may take some time, yet is one of the most valuable things we can do for ourselves. A small investment of time and energy to forgive what you need to forgive can have life-changing effects!
This Clean Slate helps you to identify your unresolved hurt and to own and complete them in a responsible way that leads to true freedom. This is one of the most powerful Clean Slate Processes!
Beautiful Pages of Dynamic Enquiry and instructions. Delivered immediately in .PDF format.